Park Chan-Wook
biography
IMDB
Old Boy (2003)
"Oldboy" contains a tooth-pulling scene that makes Laurence Olivier's Nazi dentist in "

Marathon Man

" look like a healer
A man gets violently drunk and is chained to the wall in a police station. His friend comes and bails him out. While the friend is making a telephone call, the man disappears from an empty city street in the middle of the night. The man regains consciousness in what looks like a shabby hotel room. A bed, a desk, a TV, a bathroom cubicle. There is a steel door with a slot near the floor for his food tray. Occasionally a little tune plays, the room fills with gas, and when he regains consciousness the room has been cleaned, his clothes have been changed, and he has received a haircut.


This routine continues for 15 years. He is never told who has imprisoned him, or why.
When he suddenly finds himself freed from his bizarre captivity 15 years later, he is a different person, focused on revenge, ridiculously responsive to kindness. Wandering into a restaurant, he meets a young woman who, he knows from the TV, is Korea's "Chef of the Year." This is Mido (
Gang Hye-Jung
). Sensing that he has suffered, feeling an instinctive sympathy, she takes him home with her, hears his story, cares for him, comes to love him. Meanwhile, he sets out on a methodical search to find the secret of his captivity. He was fed pot stickers, day after day, until their taste is burned into his memory, and he travels the city's restaurants until he finds the one that supplied his meals. That is the key to tracking down his captors.
"Oldboy" won the Grand Jury Prize at Cannes 2004)
READ MORE

>>>
AKI KAURISMAKI


Straight Out of Finland
In many ways, Finland is a country that doesn't quite fit in. It is situated between East and West both geographically and culturally, yet remains somewhat apart from both. The Finnish language, for example, bears no resemblance to any of the Germanic Scandinavian languages, and is also nothing like Russian; its closest (but still distant) relative is actually Hungarian. The country's government hovers somewhere between capitalism and socialism.
Anti-Art Cinema
The protagonist of a Kaurismäki film is almost always the same character: a lonely, working-class underdog of few words in search of love and a steady job. In a way, Raskolnikov seems like a logical point of reference for beginning a career devoted to sympathizing with these "loser" characters. Kaurismäki himself recognizes that
Rikos ja rangaistus
(
Crime and Punishment
) was
the first time I started to develop the loser character Nikander [the protagonist of Kaurismäki's
Varjoja paratiisissa
(
Shadows in Paradise
, 1986)]
The Working-class Trilogy
In 1986, Kaurismäki made
Varjoja paratiisissa
(
Shadows in Paradise
), the first film in his "Working-class Trilogy" (aka "Proletariat Trilogy"). With this film, Kaurismäki established the storyline that he would revisit time and time again over the years to follow: the plight of a virtuous, inexpressive outsider who loses everything he has, meets the love of his life, works very hard, and, after a series of heartbreaking events, escapes to freedom – which usually lies anywhere outside Finland,
Nikkander, a lonely garbage truck driver (played by Kaurismäki's best friend and favourite leading man, Matti Pellonpää), falls in love with Ilona Rajamäki, a shy supermarket check-out girl (played by Kaurismäki's most frequent leading lady, Kati Outinen).
After watching Nikkander eat dinner by himself at home, sadly gazing out the window, and then being treated to the equally heartbreaking display of Ilona sitting by herself at a nightclub, the only woman there who is not invited to dance, it is clear that these two belong together.
READ MORE

>>>
KRZYSZTOF KIESLOWSKI
"Live carefully, with your eyes open, and try not to cause pain."

Krzysztof Kieslowski (b. June 27, 1941 in Warsaw, Poland -- d. March 13, 1996) was one of the most important European film directors of modern era .
Kieslowski graduated from the Lodz Film School in 1968 (

the famed Polish film school which also has

Roman Polanski

and

Andrzej Wajda

among its alumni

)

and began his film career making documentaries that were both artistic and political and aimed to awaken social consciousness.
Despite becoming noticed by travelling critics and festival directors for Personnel, The Scar and in particular Camera Buff, a satirical critique of political censorship in Poland, no one was prepared for the brilliance of his Dekalog, loosely based on the Ten Commandments, which hit the festival circuit some 10 years later.
These ten films, of less than an hour each, were filmed in the same suburb of Warsaw and with many of the same characters in each story. Most of them said more in that time than many film makers can suggest in a dozen full-length features.
Two of them - A Short Film About Killing and A Short Film About Love - were extended into superb features and won festival awards which encouraged the French to take him up. All his other four films were produced in France and each won further awards, though a blow to Kieslowski's esteem came when Three Colours: Red his magnificent last film, was given nothing at Cannes in 1994 while Quentin Tarentino's Pulp Fiction won the coveted Palme D'Or.
Kieślowski retired from film-making with a public announcement after the premiere of his last film
Red
at the 1994 Cannes Film Festival.
Just under two years after announcing his retirement, Krzysztof Kieślowski died on 13 March 1996 at age 54 during open-heart surgery following a heart attack
.
Although he had only come into worldwide prominence in the last few years with the brilliant ten-part Dekalog, The Double Life Of Veronique and the trilogy, Three Colours Red, White and Blue, Kieslowski had been working in cinema for almost 30 years, first as a highly original and imaginative documentarist and then as a feature film director.
Collaboration with
Krzysztof Piesiewicz
In 1984, he began a longtime writing collaboration with Polish lawyer, Krzysztof Piesiewicz with No End. Decalogue, was co-written with Piesiewicz as wel as well as

screenplays for 17 other films directed by Krzysztof Kieslowski
Collaboration with
Zbigniew Preisner
THree Colours Trilogy marked the culmination a decade of collaborations between director Krzysztof Kieslowski and composer
Zbigniew Preisner
. Their film work is characterised by musical moments which illuminate the story and open up channels of interpretation between the work and the audience. These are cinematic narratives – as Stanley Kubrick once said of Kieslowski's The Decalogue – which dramatise ideas, rather than merely talk about them. Preisner's music is central to that process.
READ MORE
>>>
FEDERICO FELLINI
Born in the seaside town of Rimini in Italy in 1920, he quit the provinces for Rome at age 18. Enrolled in law school, he abandoned the degree. He never considered attending Rome's Centro Sperimentale di Cinematografia, whose graduates he would later collaborate with. And unlike his contemporaries, he never frequented the cinema clubs that screened the best Italian directors' films and international titles from France, Germany and Russia. When pressed for his influences, Fellini preferred Chaplin, Buster Keaton, Laurel and Hardy, the Marx brothers, Pietro Germi, and Buñuel (with his black humor) to "cine-club" names such as Dreyer, Griffith and Eisenstein. Young Fellini supported himself as a wandering caricaturist until hired by
Marc'Aurelio
in 1939. The famed humor bi-weekly served as an unofficial training ground for scriptwriters and directors of the postwar period.
Federico Fellini would seem to need little by way of introduction. He may be the best known of the postwar Italian directors. He is also among the most noted filmmakers in the history of the medium. In 1980, Harry Reasoner claimed on CBS's Sixty Minutes that Fellini was "maybe the premier filmmaker of the age"--a pronouncement which may seem a bit exaggerated from the perspective of the 1990s but which also suggests the role Fellini played in international cinema from 1954 (La Strada) to at least 1973 (Amarcord). He was awarded five Oscars, and though he suffered decline in the public eye through the 1980s and early 1990s, his final Oscar was the 1993 lifetime achievement award of the Academy of Motion Picture Arts and Sciences. He received a similar award from Cannes as early as 1974, as well as the outstanding cinematic achievement award of the Film Society of Lincoln Center (New York City) in 1985.
Perhaps more important, Fellini's work continues to be a significant influence on the contemporary filmmaking scene. In a 1992 Sight and Sound survey, while neither he nor any of his films made it into the top ten of critics' favourite movies and directors, he ranked first among international directors surveyed. As Geoffrey Nowell-Smith put it in a subsequent issue of Sight and Sound: "The word is out. Federico Fellini is the directors' director par excellence...."
POSTWAR INDIVIDUALISM, AMERICAN INFLUENCE, AND NEOREALISM
While neorealism may have been Fellini's postwar cinematic context, individualism was the prevailing ideological current as he emerged as a scriptwriter and director. Individualism, of course, has a long history in Western culture. However, in the last 200 years, it has become synonymous with American ideology--and Fellini was heavily influenced in his youth by the American popular-culture promise of individual freedom . . . .
Within the larger context of Western and American ideology, Fellini fashioned his own brand of individualism as an anti-authoritarian response to his Fascist and Catholic upbringing. . . .
Though Fellini abhorred Catholic dogmatism, this did not prevent him from fusing individualism in his early work with a secularized form of Christian humanism: a belief in the "salvation" of the individual via psychological individuation. The road to salvation was not the Way of the Cross, but the evolution of consciousness from the unconscious and the integration of all the fragmented and repressed aspects of the individual psyche.
READ MORE
>>>


J
EAN RENOIR
Renoir's films were underestimated when they first came out. They were unconventional, complex, and so energetic and technically daring that few noticed their intricate structure. They were often dismissed as rough, not fully achieved artistically. The generation that came to the cinema in the '60s and '70s (perhaps the richest and most diverse era in European cinema) recognised Renoir as an ancestor who had already made the kind of films they admired or were setting out to make themselves, and justly hailed them as masterpieces.
The son of the great impressionist painter Pierre-Auguste Renoir, Jean Renoir was also a master of his medium: cinema. After making his mark in the early thirties with two very different films, the anarchic send-up of the bourgeoisie
Boudu Saved from Drowning
and the popular-front Gorky adaptation
The Lower Depths
, Renoir closed out the decade with two critical humanistic studies of French society that routinely turn up on lists of the greatest films ever made:
Grand Illusion
and
The Rules of the Game
(the former was celebrated in its time, but the latter was trashed by critics and audiences—until history provided vindication).
After a brief, unfulfilling Hollywood stint during World War II, Renoir traveled to India to make his first Technicolor film,
The River
, and then returned to Europe in the early fifties to direct three visually dazzling explorations of theater,
The Golden Coach, French Cancan
, and
Elena and Her Men
. Renoir persisted in his cinematic pursuits until the late sixties, when, after the completion of
The Little Theater of Jean Renoir
, a collection of three short films, he decided to dedicate himself solely to writing, leaving the future of the medium to those who looked to him in reverence.
Renoir says that "in the history of all the arts, the arrival of perfect realism has coincided with a perfect decadence." He heads off into the realm of the history of tapestry to explain the point, which culminates in the following remark :
I wonder whether man isn't gifted for the beautiful, despite himself, but whether his intelligence, that devastating faculty (intelligence is terrible, we only do stupid things with intelligence)—whether intelligence doesn't push us toward the ugly. Whether our intelligence doesn't make us servants and desperate lovers of everything that's awful and horrible, and whether our tendency to imitate nature isn't just a tendency toward what's ugly—because the things in nature that we imitate aren't the beautiful things in nature.
Sam Peckinpah
On the 29
th
December 1984, the day after Sam Peckinpah died at the age of 59, a small obituary appeared in
The New York Times
. It claimed that Peckinpah, "best known for his westerns and graphic use of violence.
Inside the head of Sam Peckinpah
So the great director's films are about violence? Not really. Are they about honour? Hardly. In fact, says Rick Moody, Sam Peckinpah offered us realism - albeit of a very particular kind
"Now, most funeral orations, Lord, lie about a man," - so says David Warner, in his memorable turn as Joshua, the fraudulent preacher in Sam Peckinpah's The Ballad of Cable Hogue, from 1970. The same can be said of most film criticism - that it dissimulates or exaggerates about the film, about the director, about the movement, about the art. So let's aspire in this revisionist essay on Peckinpah to tell the truth.
Nevertheless, the first point that must be made, here in the 21st century, is that Peckinpah's films are not terribly violent. That's how he made his reputation: as "Bloody Sam", the man who never met a bucket of theatrical blood he wasn't willing to splash around, and who always made certain you knew when the blood was about to flow, by means of slow motion.
Still, by today's standards, the better part of the Peckinpah canon is not terribly violent - not when judged against today's rivers of gore.
There are, in Peckinpah, no fountaining bodies, no bits of brain tissue splattered about. Anything released in the last 20 years is quite a bit more repellent. Seen any of those Saw movies?


READ MORE
>>>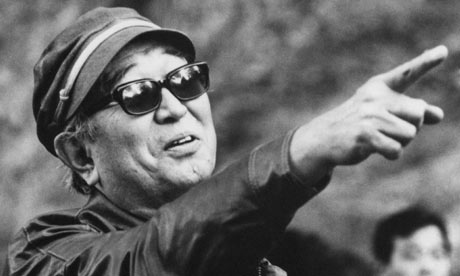 1) Drunken Angel (1948)
The youngest of eight children, Akira Kurosawa grew up in Tokyo where, at the age of 26, he began an apprenticeship at PCL studios. His first features as director, made in wartime, had nationalistic strains but No Regrets for Our Youth (1946) and Drunken Angel, about an alcoholic Tokyo doctor trying to get a stagnant pool drained, established a critical engagement with contemporary Japan.
2)

Stray Dog (1949)
Drunken Angel inaugurated Kurosawa's working relationship with the actor Toshiro Mifune, which was repeated in this picture, with Mifune playing a policeman on an increasingly obsessive quest to retrieve his stolen gun. Set during a sweltering summer, Kurosawa's breakthrough film confirmed both his feel for contemporary Tokyo and his admiration of American genre pictures.
3) Rashômon (1950)
Recognised at Venice and the Oscars, Rashomon was not just Kurosawa's international breakthrough but the standard-bearer for new Japanese cinema. Recounting a bandit's (Mifune) ambush of a couple in a forest from several contradictory perspectives, its radical challenge to conventional narrative was complemented by beautiful, often stylised photography.